Not every home can accommodate physically fostering a Bullmastiff - so how about "virtually" fostering a rescued Bullmastiff through the Virtual Bullmastiff Fostering Program! How? Simply by donating gift certificates or items (new or used) to any rescued Bullmastiff listed on this site!
Foster homes do NOT get reimbursed for dog food, collars, leashes, transportation fees, phone bills, and the list just goes on.... With the constant inflow of rescued Bullmastiffs coming into these foster homes - the small expenses add up into big debts. Can you help us help our beloved Bullmastiffs by donating $10 for a collar or $25 for a bag of dog food? Or do you have an old comforter, towels, extra cotton balls, gauzes, etc. that you no longer need that you can send off to a Bullmastiff in need?
Bullmastiffs Available for Adoption
to Qualified Homes
Click here if you are looking for a Bullmastiff puppy.
If you cannot accommodate having a Bullmastiff live in the house with you 100% of the time - you do not qualify for a Rescued Bullmastiff. Bullmastiffs are not yard dogs and should not be kept as such.
The following Foster Homes of rescued Bullmastiffs are currently in need of supplies. Please click on the hyperlinks to donate a gift certificate and/or item and have it shipped directly to the fostering family. Or simply write down the mailing address and send them an old comforter, dog bed, towels - any other much need

ed

item that they could use (see wish list

to the right

).

Steph and Mike Maurath
1249 Guilford Rd
Eldersburg, Maryland 21784
Email: bullynpug@adelphia.net
Phone: 410-552-0363
Average # of Bullmastiffs Fostered Per Year: 10

Vicki Price
901 Schroeder Rd.
Powhatan, Virginia 23139
Email: bulmastiff@earthlink.net
Phone: (804)598-3997
Rescue Organization: American Bullmastiff Association
Average # of Bullmastiffs Fostered Per Year: 6

Karen Miles
6000 Boston Road
Valley City, Ohio 44280
Email: Kmiles6000@aol.com
Phone: (330) 483-4635
Rescue Organization: American Bullmastiff Assoc.
Average # of Bullmastiffs Fostered Per Year: 4

Alison Scott
20134 Torrey Pond Place
Montgomery Village, Maryland 20886
Email: aandpscott@hotmail.com
Phone: 301-869-8809
Rescue Organization: American Bullmastiff Association Rescue Service
Average # of Bullmastiffs Fostered Per Year: 3

Kelli Johnsen
1220 9th Ave
Baldwin, Wisconsin 54002
Email: bmfrescue@hotmail.com
Phone: 651-334-6304
Rescue Organization: Twin Cities Bullmastiff Rescue
Average # of Bullmastiffs Fostered Per Year: 2

---
Even if you cannot make a donation at this time, but do have pets of your own. Consider shopping at The Bullem Mall. A portion of your purchase will help generate funds for various Bullmastiff Rescue Groups.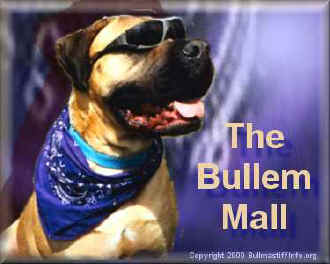 THANK YOU for helping us help this majestic breed!
What Volunteers Need
(Used or New Items):
Donate a Gift Certificate or Toys:
Dishes/Feeders - Stainless steel bowls, raised feeders, etc.
Collars/Leads - Round Buckle Collars, Chokers, Strong Leashes, etc.
Perishables - Cotton Balls, Hydrogen Peroxide, first aid kit, ear cleaning supplies, shampoo, bleach, etc.
Medicine - Heartworm pills, flea prevention drops, joint supplements, etc.
Identification - microchips, ID tags, tattoos, etc.
Food/Treats - quality dry dog food, dog treats, etc.
Services - car detailed, carpet shampooed, yard pickup, phone card minutes, etc.
Expertise - training, walking, grooming, socializing, etc.
Office Supplies - printer paper, stamps, envelopes, etc.
Bedding supplies - Dog Beds, old comforters, old sheets, old towels, etc.
Chew Toys - Galileo Nylabones, Kongs, etc.
Crates/Gates - Wire Crates, Vari-Kennels, baby gates, etc.
When you donate an item - you help make a Rescued Bullmastiff's wish come true!