Bullmastiffs Available for Adoption
to Qualified Homes
Click here if you are looking for a Bullmastiff puppy.
If you cannot accommodate having a Bullmastiff live in the house with you 100% of the time - you do not qualify for a Rescued Bullmastiff. Bullmastiffs are not yard dogs and should not be kept as such.
If you are interested in adopting a Bullmastiff from a Bullmastiff Rescue organization, there is a specific process you will need to go through in order to be consider a viable candidate for one of our Bullems. The process is as follows:
First you must complete and sign the Adoption Application

.

No one will be considered without the adoption application being completed first.
Once the Adoption Application is submitted to us, we will review it to determine if you and your family fit the profile for one of our available Bullmastiffs.

S

ubsequent interviews will be conducted to determine your adoption qualifications

before approval is finalized

.
If the follow-up interviews and home visit prove satisfactory, Rescue will offer you a Bullmastiff that would best fit your environment. If no Bullmastiffs are available that fit your needs, we will keep your application on file for six (6) months. Please check the Available for Adoption list frequently and

if there is a Bullmastiff that interests you in the future, notify us so that we can pull your file. If the time span is beyond six (6) months, you will need to resubmit another application.

The adoption fee for each Bullmastiff will range from $150 to $300 pending the care costs incurred by that Bullmastiff and their age.

Younger Bullmastiffs will have a higher adoption fee than older Bullmastiffs.

All Bullmastiffs are up-to-date on shots, microchipped, health problems addressed, and spayed/neutered before placement.
All adopting families will sign a lifetime contract with Bullmastiff Rescue upon receiving a Bullmastiff from Bullmastiff Rescue.

Click here to see an example of the Bullmastiff Rescue Adoption

Contract.
These are the general guidelines that are required in order to acquire a Bullmastiff from most Bullmastiff Rescue organizations. Keep in mind, these Bullems have already been through enough and yes, we are extremely protective of them once they enter into our program. Many families will follow the above the procedures, but only an exceptional few will actually be qualified to own a Rescued Bullmastiff.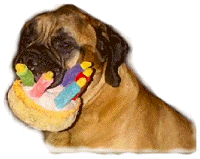 If you are one of those exceptional few - we look forward to hearing from you soon!
Still have questions about Bullmastiff Rescue? Click here to find answers to your questions about a Rescued Bullmastiff before you adopt, such as: where the Bullmastiffs come from, why they are surrendered, health screening, temperament screening, training, etc.
Virtual Fostering Program - if you are not able to adopt at this time, please consider "online" fostering of a Rescued Bullmastiff.